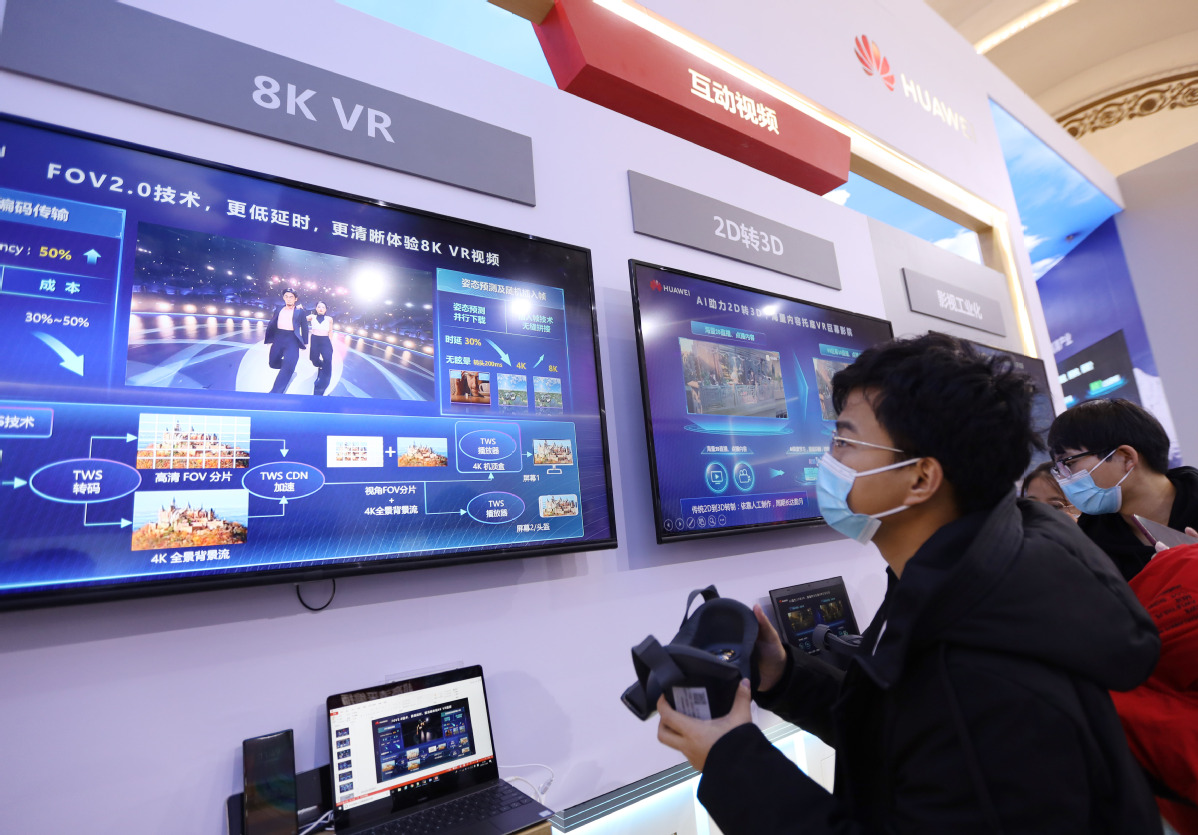 Large chip inventory, 2020 revenue growth may soften COVID, US impact
Huawei Technologies Co said on Wednesday that it has the ability to satisfy the needs of its customers, especially various enterprises, as the company has poured a large amount of cash over the past two years to build up its stockpiles of chips in response to US government restrictions.
The statement came after the company said it generated 891.4 billion yuan ($135.9 billion) in global sales revenue in 2020, growing 3.8 percent year-on-year, despite the impact from the COVID-19 pandemic and US government restrictions.
The Chinese telecom equipment maker and smartphone vendor said its net profit rose 3.2 percent on a yearly basis to 64.6 billion yuan in 2020.
"Over the past year, we have remained strong in the face of adversity," Hu Houkun, rotating chairman of Huawei, said during the company's annual earnings conference at its headquarters in Shenzhen, Guangdong province.
Huawei's telecom business group posted revenue of 302.6 billion yuan last year, up 0.2 percent from a year earlier, partly due to the Chinese telecom operators' efforts to accelerate the 5G rollout, and increased purchase of Huawei's telecom gear.
Growth of the consumer business group which includes smartphones, smartwatches and other consumer electronic products, however, slowed last year, with growth coming in at 3.3 percent year-on-year to 482.9 billion yuan, as the US government restricted access to crucial chip components.
But Hu said that despite the difficulties, the company will continue rolling out its flagship smartphone models as scheduled. Huawei said by the end of last year, it had more than one billion people around the world using its devices, and among them, 730 million are smartphone users.
Hu said that the chip components the company has stockpiled are enough to serve its enterprise clients. "As for when the supply of crucial chips can be resumed, it will depend on the global semiconductor supply chain's cooperation and improvements," Hu said.
According to him, the US restrictions on Huawei's access to its technology are not only taking a toll on Huawei's business, but also causing damage to players in the whole supply chain.
The UK chip firm ARM Holdings said on Wednesday that after a comprehensive review, it has decided that its latest ARMv9 chip design architecture is not subject to US export regulations, and already notified the relevant US government departments.
The move is good news to Huawei as it will be able to use the latest ARMv9 architecture to design cutting-edge chips for its smartphones, servers and other devices, experts said.
Xiang Ligang, director-general of the Information Consumption Alliance, said the relatively stable financial performance of Huawei mirrors the company's resilience amid mounting pressure, but challenges ahead will be tougher, especially within its smartphone business.
Nicole Peng, vice-president of mobility at Canalys, said earlier: "It is possibly Huawei's toughest time as it is restrained in even serving its home market. Huawei's sell-in shipments in the fourth quarter of 2020 shrunk by nearly half sequentially, despite huge demand for Huawei devices, as the company is unable to fulfill this demand in the foreseeable future."
Amid US government restrictions, Huawei has been ramping up efforts to explore the Chinese market, including more efforts to expand its local cloud computing business and its smart photovoltaic solutions to help Chinese enterprises cut their carbon footprint.
Such efforts have partly helped Huawei's China business record a 15.4 percent year-on-year growth in revenue to 584.9 billion yuan in 2020. But business in the Americas dropped by 24.5 percent; in Europe, the Middle East and Africa by 12.2 percent and in the Asia-Pacific region by 8.7 percent.
Despite the decline in overseas business in 2020 amid the COVID-19 pandemic, Hu is positive about this year's performance.
"Once the pandemic gets under control, we expect global demand to return to the uptrend territory. We have positive expectations on our revenue outside the Chinese market this year," he said.